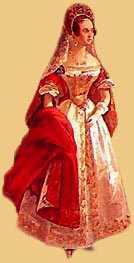 Russian Court Dress

The Russian Imperial Court was a place of splendor and pride. Court dress in Russia was a very specific thing. It was introduced by Nicholas I in 1834 and loosely based on traditional Russian styles.

The Russian Court was no different to other Courts in that everyone vied to be the most fashionable and the most talked-about. As the imperial capital, St Petersburg's inhabitants from the highest to the lowest have always known the importance of dressing to impress.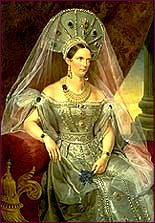 This portrait shows the Empress Alexandra, wife of Tzar Nicholas I, in a Russian court dress.

Both Alexandra's beauty and her love of elegant things are obvious in this portrait.
She's wearing many pieces of jewelry and an elaborate dress which at the time was the standard court dress. The fanciful headdress was based on a traditional Russian costume. In her hand she's holding a little bouquet of fresh cornflowers, the same color as her eyes.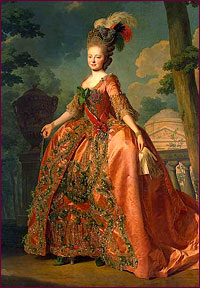 "The richness and splendour of the Russian court is above all pretentious descriptions. The traces of ancient Asian magnificence are mixed with European exquisiteness. A huge suite of courtiers either follow or preceed the Empress.
Luxurious and brilliant full dresses and abundancy of precious stones on them are much more magnificent than at any other European court... Of the luxury articles of the Russian nobility we foreigners are most of all astonished with the abundancy of precious stones shining on different parts of their costume... Many of the noblemen are almost studded with diamonds", wrote the English traveller and historian William Cox who visited the Winter Palace receptions.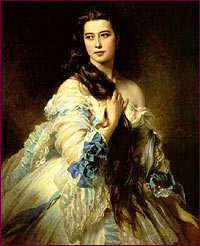 As compared with magnificence of the court way of life the personal requirements of Tsarina Catherine ll were moderate as she intentionally pointed it out. The state secretary of Catherine II who described the last ten years of her reign Gribovskoy indicated that she wore a plain loose dress of grey or violet silk. Orders and jewellery decorated her costume made of brocade or velvet all in the same style only at gala receptions.

She introduced a fashion of wearing "Russian style" dresses at the court and used elements of national costume in her attire.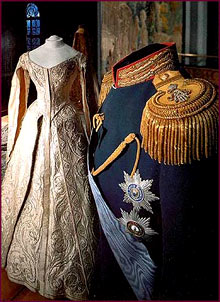 "The Russian court dress was exceedingly picturesque and was donned for all bigger occasions. It consisted of amply cut velvet robes over a tablier of white satin; the shape, with its train, and wide, long-hanging sleeves, had something medival about it. These robes were heavily embroidered in silver or gold and were of every colour of the rainbow; the richest of all were of cloth of gold or silver. A halo-shaped cocoshnic with a veil hanging from beneath it inevitably accompanied this costume, so that every woman appeared to have been crowned. This unity of attire made all Russian court gatherings uniquely picturesque, saturating them with colour and brilliance unlike anything else; veritable pictures out of the "Thousand and One Nights," Byzantine in splendour, with all the mysterious gorgeousness of the East. In those days the processional entry of the Russian Imperial family into festive hall or saint-haunted church was a picture once seen never to be forgotten." - Marie, Queen of Roumania, from the book "The Story of My Life".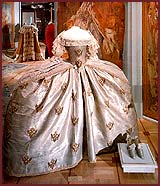 Although she had already attended three balls that week, it would not be unusual for a Russian woman of noble standing to look forward to yet another night of festivity in the city. It would not be unusual, as well, for her husband to complaine that each flounce of her dress costs more than an abbot's robe of gold brocade.

Rich jewellery was worn at all times and vertually all of it - rings, bracelets, necklaces, tiaras, pins, shoe buckles, hair ornaments, watches, swords - was studded with diamonds and other precious stones. The cold Russian climate demanded equally sumptuous coats and hats, and of course, these had to be examples of high fashion.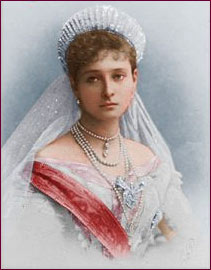 The Russian costumes of the former times are scarcely ever worn today though they serve a source of inspiration to many a fashion designers throughout the world.

The industrial development of the 20th century had put its impact on the fashion designs introducing new technologies and materials. Yet the motifs of the older days, the best traditions of style and form are often used by modem designers to diverse and make their top fashion creations especially picturesque and luxurious.

The Pavlovsk Museum has a large collection of costumes belonged to different representatives of the Russian Imperial Family.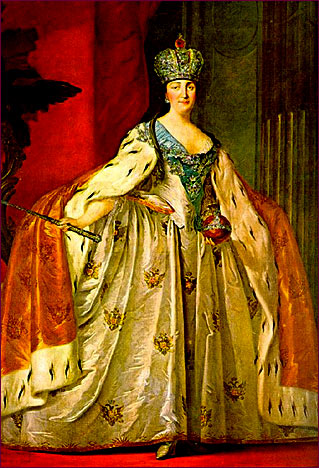 Portrait of the Empress Catherine ll, Levitski.

Table Settings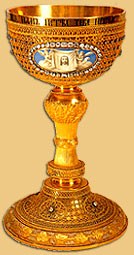 The gold and silverware decorated with precious stones and pearls, such as cups, loving-cups, win-cups and Korchiks (small dippers), conjure up vivid pictures of court life during the 17th century.

Seramics, of all decorative art forms, was the one most intensively cultivated in Imperial Russia.

Its development began not with Peter the Great, who had sent his emissaries to Peking to wrest from the Chinese their secrets of their exquisite ware, but with his expansive, willful daughter, Empress Elizabeth.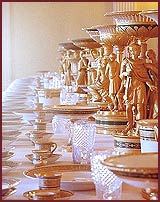 Porcelain was first brought to Europe by Marco Polo from China, and the secret of its manufacturing remained unknown to Russians until 1740 when a young metallurgist was sent to Germany to study. With this new knowledge, the first Russian porcelain factory was opened in 1744 under the patronage of Empress Elizabeth, and still exists today.

Though beautiful dishes imported from Europe graced her table, she nonetheless felt her surroundings were incomplete without an abundant supply of porcelain produced in her own factories. Elizabeth's pursuite was not self-serving for she saw it as a means for generating commercial profit and as a way of nurturing "home art".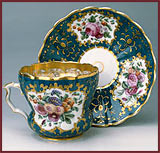 The primary business of the emerging porcelain industry was to supply the royal courts with hard-paste porcelain table services, decorative pieces for elaborate state banquets, and pieces for their private use. Russian banquets often lasted up to nine hours and required vast amounts of tableware. Porcelain's translucent beauty and durability was valued as a decorative accent for the banquets. The difficulty and expense of manufacturing porcelain demonstrated the Russian empire's sophistication, and porcelain was often presented as gifts to state and foreign visitors.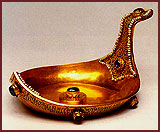 Traditional Russian tea was poured into porcelaine cups from steaming samovars.

Other examples of uniquely Russian objects found on banquet tables were "kovshi". There were large ones from which punch was poured and miniature ones that were used as saltcellars.

In time this unusual-looking object became so identifyed with Imperial honor that it grew to be more desirable than any other ceremonial gift.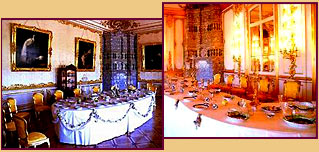 Click here to learn about the collection of Western European and english porcelain in Pavlovsk Museum, one of the richest in the suburban Imperial palaces.