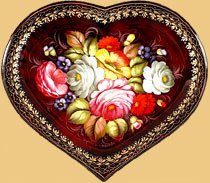 The village of Zhostovo outside Moscow is a world-famous Russian folk art center. It's popular for their painted trays decorated with bright bunches of flowers on the black background. The skillful and talented masters of Zhostovo have turned these domestic utensils into real masterpieces of art.

The floral designs of Zhostovo trays display beauty of nature and a cheerful, optimistic sense of life. Hand-drawn flowers from the Moscow suburb are unique and famous throughout the world for their color and beauty. Using a special double brush technique, the artists in Zhostovo paint on a variety of objects, but the large Zhostovo metal trays make for some of the most spectacular art pieces.


Zhostovo's tray has a very long history, more than 170 years.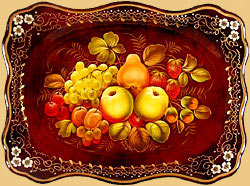 The first workshop of tray painted decoration was opened in 1825 by the Vehnyakov Brothers (former serfs). Soon tray painting became an independent handicraft. The trays were very popular and the business spreaded to some neighboring villages: Ostashkovo, Troitskoe, Sorokino, Khlebnikovo, but only Zhostovo saved its artistic merit at present days.


The craft appeared under the influence of painting on metal. It was based on manufacture of lacquer articles made of papier-mache. At the end of the 18th and the beginning of the 19th centuries the articles made of papier-mache, such as caskets, snuff-boxes, tea-sets, cigar-cases, appeared in the villages called Danilkovo, Fedoskino, Ostashkovo, Zhostovo.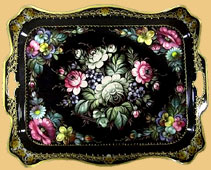 By the middle of the 19th century 12 workshops had already worked continuing the traditions of Ivanovo chintzes, Fedoskino miniature, village painters of chests and spinning-wheels.

Zhostovo artists created their own artistic system, their own style.

There are two directions in the base of that system: first is the studying of ornamentation of russian folk handycrafts, and second is the assimilating of experience of realistic paintings of style life of XIX century. That's where Zhostrovo artists found the endless variety of themes and compositions for their works, that is where they studied the secrets of colour and oil painting technique.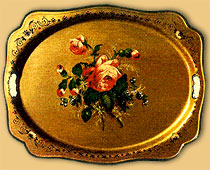 The style and methods of Zhostovo painted decoration have acquired all traditions of folk art ornamentation and realistic still-life painting. However, the tendency of painting bunches of flowers became leading. Today, after more than 170 years existence of the handicraft the village of Zhostovo turned into a unique center of Russian folk art.

The Zhostovo trays are usually black coloured, but there may be some different colours: green, blue, ivory black, different shades of red and golden.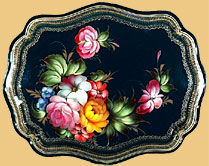 The trays are decorated with gaudy, very beautiful flowers gathered in bouquet. Sometimes artists could paint fruits, berries and very rare animals and insects. Radiant, festively painting that comes out of an artist's brush turns usual things into the beautiful images that could always admire you. That's probably why Zhostovo's trays were always used as an ornamentation: they were hung on the wall or put on the shell. Many people also line to decorate their modern houses with Zhostovo trays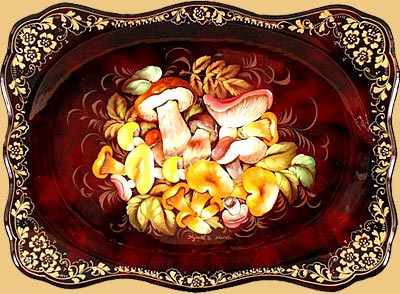 According to the President's Decree dated the 6th of November 1993, Zhostovo folk was included into the State Index of the most valuable objects of culture of the Russian Federation. "Zhostovo Decorative Painting Manufactory" - it is the name of the place where professionalism and talent of the handicraft masters create a real marvel - Zhostovo trays, at all times a desired present for every family.

Nowadays the works of Zhostovo artists are on display at various exhibitions and museums not only in Russia, but in many other countries as well.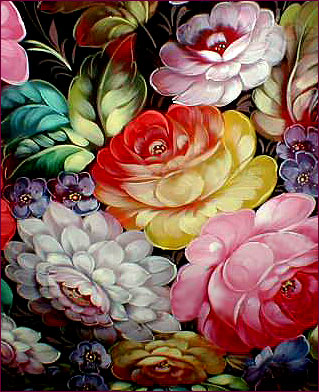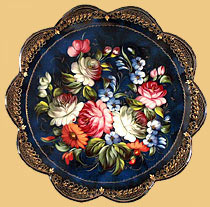 Old technique of painting is kept and used till now.
Before the tray became a marvelous picture it is pressed out of metal and its further technology is similar to Fedoskino lacquerwork.

First the tray is grounded (prime coated) and is dread at a temperature of 60-140oC degrees. After that it is lacquered three times with black lacquer, every new layer is dried and polished. Only after that the talented artist's hands could touch it. Zhostovo artists similar to Fedoskino artists paint with oil using Squirrel brushes.

Then, it was given to the painter. At first, the painter draws the silhouettes of flowers and leaves, gathering them into the bouquets. He never repeats all the details of the painting twice. Every tray is original.
Then, a painter, using a soft brush, makes shadows, then - long primer, then - highlights. After all, he draws carefully all details and binds a bouquet with background by slim volutes. In conclusion, a gold tracery is painted on the tray's bead; the tray is covered by 3 layers of light lacquer and polished.

Zhostovo artists paint very quickly and accurately. While working an artists holds the tray on his lap and rotates it. He is kind of looking for a balance between the painting, the shape and the size of a tray.

Zhostovo trays have very different Shapes (there are some 30 shapes) oval, right-angled, guitar shaped, octahedral, scalloped and other.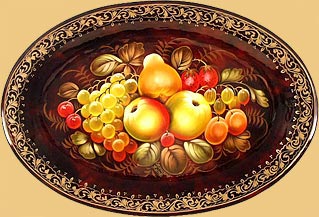 The painting of flowers is very realistic, but artists never repeat accurate shapes of natural flowers, although they know the colour and the structure of the flowers very good. As a rule their flowers are more juicy, more splendid and colourful, than flowers, artists find the convincing verisimilitude combining imaginary with natural, that is so typical for any folk handycraft. They create the picture of joyful, festively blossoming.

In spite of strict traditions, the painting of every artist is very individual,every artist has his own manner, his favourite themes and compositions, his favourite flower.

Links

To learn more about Zhostovo Trays click here.

Books: "Masterpieces of Russian Folk Art: Zhostovo Painted Trays", Author: I. Boguslavskaya, Interbook, Moscow, 1994.

The book is full of color pictures showing different style trays and has an 18 page introduction describing the art and its history. A very nice and professionally done book for your coffee table.