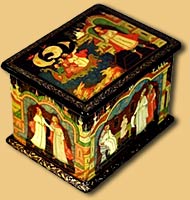 Russian lacquer boxes are among the most beautiful and distinctive of that country's art achievements in the 20th century. The boxes feature intricately hand-drawn miniature paintings based on a variety of themes, including fairy tales, poems, country life, troikas, landscapes, battle scenes, and old art masterpieces. They get their name from the many layers of lacquer (most often, black and red) that are applied to both their outside and inside sections. Coats of clear lacquer, or varnish, are the last layers to be put on and provide a stunning shine to the box.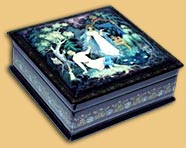 The boxes, which vary in size, are extremely well crafted. It can take as long as two months to make a box out of papier-mache, a material many artists prefer because of its ability to withstand changes in atmospheric conditions and to avoid cracking. The lacquer box sitting on your mantel today will likely be enjoyed by many generations.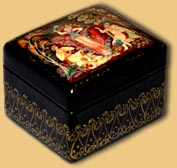 But it's the miniature paintings that bring real value to the boxes. Lacquer artists must not only excel artistically, but must also have the patience to spend long stretches of time working on the many small intricate sections of their composition. Artists will typically use strong magnifying glasses on these spots and very fine brushes made out of a squirrel's tail.

The boxes most widely sought after come from one of four small Russian villages - Palekh, Fedoskino, Kholui, and Mstera. Special schools have been established at these places where artists train for four years before they become members of each village's art community. Each village also has its unique style.

Fedoskino

The village of Fedoskino, one of the centers of modern Russian lacquerwork, is located in picturesque surroundings of Moscow, on a bank of the Ucha. Fedoskino is a very old village - about two hundred years renowned for its miniature paintings on lacquered papier-mache boxes.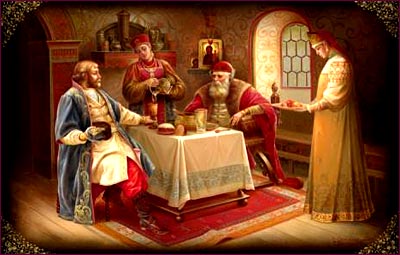 A characteristic feature of Fedoskino miniature painting has always been a combination of direct painting with glazes superimposed over a goldleaf, mother-of-pearl plaque or over a ground powdered with metal dust.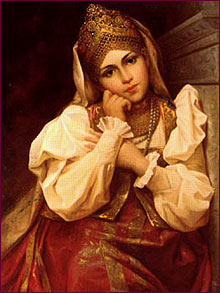 A technique of pure glazing is also used: glaze, a transparent layer of paint, is applied all over another color or ground, so that light passed through it is reflected back by the under-surface and modified by the glaze. This layering brings out a radiant quality in the drawings and the colors seem to emanate from within. Coats of varnish are applied to every layer of paint. Sometimes, an underlay of gold leaf or mother of pearl enhances this radiance and adds a lovely iridescence of its own.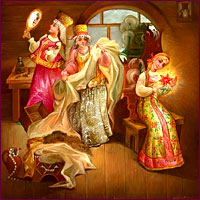 Artists from Fedoskino use a more realistic style of painting than the other villages. The most popular themes of Fedoskino lacquered miniatures include the scenes and sketches of peasant life, i.e. folk round dances, traditional tea-parties and Russian "troikas" (three horses harnessed abreast). The school of painters from Fedoskino is distinguished from other schools by the lack of graphic and flat manner of painting. They also use oil paints for their drawings instead of the egg-based temperas. Three to four layers of the oil paints, along with seven coats of lacquer, are applied to each box before it is completed.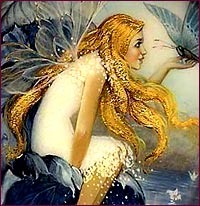 This art has been known in Russia since the late eighteenth century.

The folk artists - painters from Fedoskino, are truly considered the founders of the Russian lacquerwork. In 1795 Peter Korobov, a rich merchant, opened one of the first workshops in Fedoskino. Lacquered boxes with painted miniatures became the first products of that workshop.

Soon the Fedoskino painted boxes became popular and famous in Russia and in Europe. Later painters from Palekh, Mstera, Kholui, started to use the technology of lacquered miniature, creating their own peculiar traditions of miniature painting.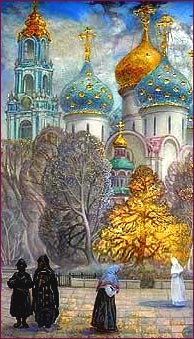 Practically, the production of lacquered papier-mache articles with painted decoration has not changed significantly since the mid-nineteenth century.

Today the articles are painted with a great variety of subjects on genre, literary, song, fairy-tale, historical and contemporary life themes. But even a short acquaintance with them helps one to go deep into their art, which is an art unique, with strong national roots and the traditional decorative quality, which gives it its originality.

At present, there are three hundred painters working in Fedoskino (totally, there are 2,500 villagers). Many of them belong to the families, whose members have been painting miniatures for over 10 generations. Yuri Gusev, a prominent painter, who invented the logo for the products currently made in Fedoskino, is the head of the painters community in the village.
The prices for the lacquered miniatures from Fedoskino are set depending on the depicted story, materials in use and the skills of painters. However, many counterfeits are sold in Izmailovo art market in Moscow and even in some specialized shops. The real boxes from Fedoskino are light-weighted, the paintings are fine and sophisticated. The interior should possess the logo of Fedoskino covered with several layers of varnish. Each box shoud have a signature of painter.
The boxes made in Fedoskino by special order were offered as traditional gifts to the heads of states, who visited the former Soviet Union. Some masterpieces of lacquered miniature were sold for nearly 100,000 US dollars at the international fairs.
Those, who managed to get a real box from Fedoskino, may truly consider themselves the owners of very expensive pieces of art and, what is more, sophisticated connoisseurs of traditional Russian culture.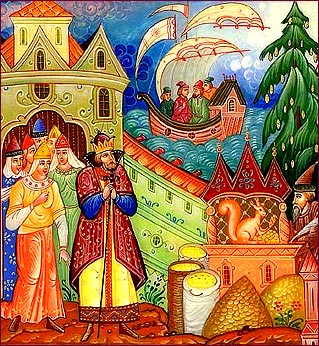 Mstera school of painting "The Tale of Tsar Saltan".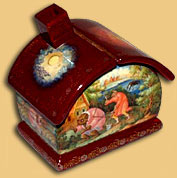 Mstera

Mstera is a unique place in the eastern Vladimir Region. Since the 17th century, it has been the Mecca of Russia's icon painting and other arts and crafts.

Today, Mstera is famous for its lacquer papier-mache miniatures.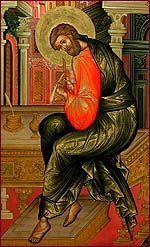 The style of Mstera also derives from the traditions of Russian icon-painting. It develops and deepens a realist perception, and displays a variety and subtlety of palette, being picturesque, ornamental and decorative.
The delicate combinations of color in the main drawing seem to glitter and glow.

Traditionally the Mstera miniature incorporates cliffs, small mountains, hills architecturaldetails and fantastic decorative foliage as its basic forms and themes.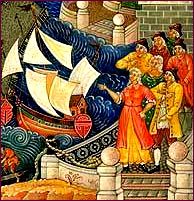 Boxes from Mstera, usually have the lightest colors. Artists there almost never choose black for their backgrounds, and instead use light blue, pink, gold or ivory colors.
With the addition of these colors, landscapes generally play a more prominent role in Mstera works, and people and objects tend to take a place within the background setting rather than remain separate from it.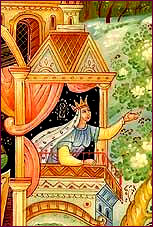 In Mstera, a wide range of artistic talent exists. While some artists paint dynamic and elaborate scenes from fairy tales or famous battles, others concentrate on exquisite floral designs. Mstera Jeweler is one of the largest factories in Russia based on folk craft with richest traditions of artistic metalwork, the roots of which lie in cultural layers, brought to Russia, with the adoption of Christianity, in the magnificent culture of church art and icon-painting.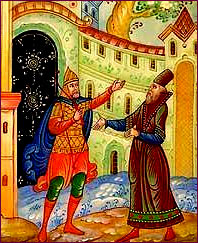 The craft of Vladimir-Suzdal land had been developing for centuries. Due to the efforts of individual craftsmen who united themselves into small artels (cooperatives) at the end of the 19th - beginning of the 20th century, and they not only laid down the productive area of the future factory, but also did a lot to outline its artistic trend.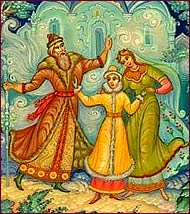 Profound knowledge of non-ferrous and precious metals processing, great abilities in blacksmith's and embossing crafts, engraving upon red and green copper, steel and silver, work with precious stones, beads and glass, painting with hot enamel against a filigree background, finesse of painted enamel technique, intricate patterns of filigree lavishly studded with granulation, this heritage was not only preserved but also found broad use in the modern art of master jewelers.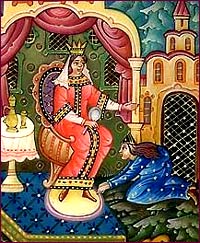 The production of Mstera jewelers is well known in Russia and abroad.

It is widely used in modern household and is in great demand. The talented artists and masters of the factory preserve the best traditions of Mstera jewelry craft and create new and unique works of art.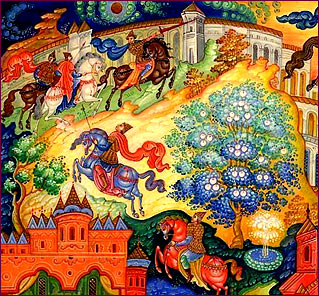 Books:
"200 years of Russian Lacquery", Yantarny Skaz, Roskniga, 1996, Kaliningrad, L. Pirogova, 5-7406-0017-0


"The Art of Soviet Palekh", Moscow: 1958,Russian/French/English text by N. Sobolevsky.