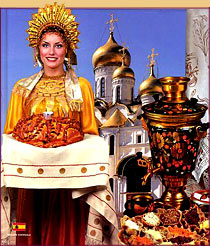 Russian food is a lot different from American. It's also harder to prepare. The most popular meals are "pelmeni", "peroshki", "blini".

In most Russian families women prepare food. It's very important for a woman to know how to cook. In Russia people eat more vegetables then here. Most people who own a house have their own garden. They grow green onions, potatoes, radishes and different kinds of berries. When it comes to winter time people have their own potatoes saved and stuck in their basements. In summer time people try to eat as many fresh vegetables and fruits as they can, because in winter time you don't get a lot of vitamins.



Children like their grandmother's cooking more then their mothers because women cook all their lives and as they get older they get a lot more experience. But when their mom becomes a grandmother she cooks great too.

Shashliki is the most popular dish when you get out of town. It can be prepared from chicken or any other meat. First, you have to let the pieces of meat marinate in a mixture of vinegar and water overnight, then you grill it on fire, spraying a little bit of liquor on it while it's grilling. Usually men do it. You have to know what you are doing, because if it's not cooked right, you can get very sick, and end up in the hospital. But, that does not happen very often, because most of the men can prepare it very well.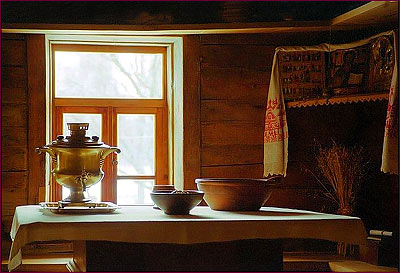 Russian table setting, old style.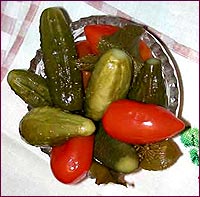 Over the last few years the quality of food in Russia, both in the shops and in restaurants, has improved immeasurably. Now, especially in Moscow and St. Petersburg, virtually everything that we are used to seeing at home is also available, although you may have to pay slightly more for Western products than you would expect.

The range of restaurants, cafes, fast food outlets, bars and night clubs is vast, and practically every taste, from Chinese and Japanese to French and Italian, not forgetting of course the ubiquitous American influence, is catered for foreigners.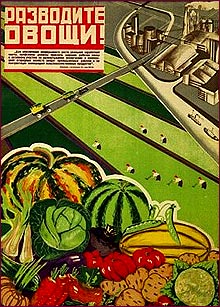 It is difficult to talk of specifically "Russian" cuisine, as many specialities now served in Russian restaurants actually originate from different republics of the former Soviet Union. Often, the best part of the meal is the starters (zakuski), with a wide selection of dishes such as; salads, often with sour cream or mayonnaise; meats and fish, such as smoked salmon and caviar; and pickled vegetables. However, other dishes to look out for include:

Traditional soups, which originate from the Ukraine, such as borshch (beetroot base), and shchee (cabbage). These are usually served with a spoonful of sour cream, and may or may not have been prepared with meat for extra flavour.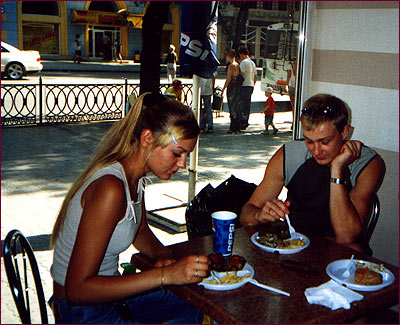 Small meat or vegetable pies (pirozhki), which can be eaten hot or cold, and are often found for sale on street corners.

Russian-style pancakes (blini), which are served with butter, sour cream, jam or caviar.
A variant on ravioli (pelmeni), which comes from Siberia, and can be delicious especially on a cold winter's day.

Russians eat a lot of potatos. There are about hundred different dishes made of potatos! Meat and potatos are very popular as an every day meal.
Finally, no visitor to Russia can fail to notice the Russian fascination for ice cream (morozhenoiye) in any weather. Even with temperatures as low as -20c, with streets buried deep in snow, you can still see queues of Russians waiting for their favourite snack!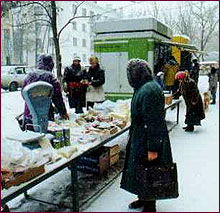 The Russian penchant for vodka is widely recognised, but during the communist era, when vodka was not always available, many Russians resorted to drinking anything from perfume to antifreeze instead. Today, a wide range of spirits and beers (piva) is available on sale day and most of the night from kiosks and shops.

Another Russian speciality is kvas, a semi-alcoholic drink, made from fermented rye bread water, and considered very refreshing in the summer.

GUM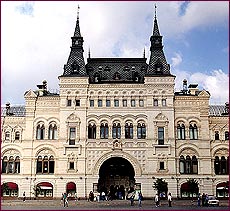 The ornate Neo-Russian facade of GUM, Moscow's "State Department Store", takes up almost the entire eastern side of Red Square.

Built between 1890 and 1893 by Alexander Pomerantsev, the building features an interesting combination of elements of Russian medieval ecclesiastical architecture and an elegant steel framework and glass roof, reminiscent of the great turn of the century train stations of Paris and London.

This modern 3-story arcade is the largest shop in Moscow and was built to replace the old hall of the Upper Trading Rows, which existed earlier on the same site but burnt down in 1825. The original hall contained some 1,200 separate shops and stalls and was one of Moscow's liveliest markets.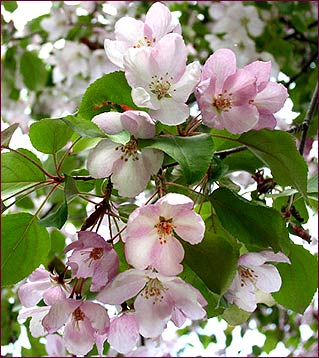 Recipes

Cabbage Salad



Cut the cabbage in half and carve out the core. Using a long sharp knife, cut the cabbage into thin strips. Discard the thicker ribs of the cabbage leaves. Sprinkle the cabbage with 1/2 teaspoon of salt and rub the strips with your hands to make them softer and juicier. Cut the onion and apple into thin strips and combine with the cabbage, mayonnaise, and carrot shavings. Add salt and sugar to taste, then chill.

Ingredients:
• 1 firm head of cabbage (as white as possible) about 1 1/2 pounds.
• 1/2 teaspoon salt.
• 1 medium onion.
• 1 large apple, peeled and cored.
• 1 cup of mayonnaise.
• 3-4 tablespoons of thin carrot shavings.
• Sugar to taste.
• Parsley sprigs and/or thin wedges of red-skinned apples.
---------------------------------------------------------------------------------


Pickled Apples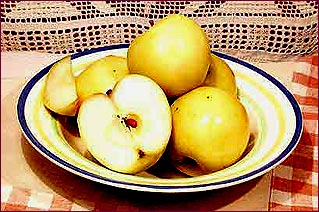 Cover the bottom of glass pot (traditionally, wood barrels are used) with black currant leaves. Put 1 level of apples, and then cover this with leaves. Put all apples with leaves into the pot by analogy. Pour apples with pickle (level of pickle must exceed level of apples). Put above wood circle (with diameter like the pot approximately). Put some load (about 3lb (1,5 kg) - bottle with water, etc.) above. Pour some pickle into apples if necessary. Keep for 30-40 days until ready.

Ingredients:
• Green apples;
• black currant or cherry leaves;

Ingredients for pickle:
• 20 cups (5 liters) water;
• 0,5lb (200g) sugar (or 0,7lb (300g) honey);
• 1,5 Tbsp salt
Boil all ingredients together, and then cool.
---------------------------------------------------------------------------------


Pelmeni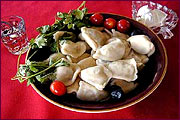 Ingredients for the dough:
• 4 eggs,
• 200 ml of water,
• 600 gr of flour and make a hard dough.

Ingredients for the mince:
• 200 gr of minced beef.
• 200 gr of minced pork.
Then add some chopped onions, salt, pepper. You can add some milk or meat stock to make it more tender and juicy.
Now follow these steps:
1. Take some dough and make a "sausage" (1 - 1.5 cm in diameter)
2. Cut it in pieces about 0.5 cm thick.
3. Roll each one so that it becomes a circle 1-2 cm thick. Don't use too much flour as it'll make it difficult to stick the ends.
4. Put some mincemeat in the center.
5. Fold the circle so as to make it half round, stick the edges.
6. Cook in salted boiling water for 5-7 mins.
7. Take them out of water and serve hot with butter, mayonnaise, ketchup or sour cream.

NOTE: use much water to cook pelmenies as they can stick to each other. Don't forget to stir them from time to time. Also bear in mind that you can freeze them and keep in freezer for a long time. When you want to cook them, do not defrost them. Just cook as usual.
---------------------------------------------------------------------------------


Bliny (Russian-style pancakes)

Bliny is a Russian traditional dish. They are baked in a great quantity for holidays. Bliny making was a real sacred mystery. People told fortunes on the dough, kept their recipes of Bliny in secret. The first Bliny were put on the window-sills for poor people and pilgrims. The foreigners were very surprised at how many Bliny Russians could eat.
The most popular Bliny were made from buckwheat flour. Good Bliny must be very very thin. The thinner Bliny are the better your skill is.

Ingredients:
• 1 cup of flour.
• 3 cups ofmilk.
• 1/2 ts soda.
• 2 tb vegetable oil.
• salt and sugar to taste.
• 2-3 eggs.

Preparation:
Mix eggs with 3 cups of milk .Add salt and flour and mix thoroughly.

The dough can be drained so that there are no flour lumps in it. Pour vegetable oil into a saucer. Peel an onion and cut it into 2 parts; take one part with a fork and dip it in oil. Use it every time for greasing the pan with vegetable oil. Heat the pan. Grease it. Pour thin layer of batter evenly. Add more flour if you are not successful with thin bliny. Cook until light brown, about 2 minutes on each side. Servings: 2-3.
Bliny can be served with butter, sour cream, black or red caviar, fillet of sturgeon, lox, and salmon.

Links

www.russianfoods.com (in English), www.pelmeni.ru, On-line Store, www.russiancuisine.com, Russian Recipes, www.cooking-book.ru, Russian Recipes.