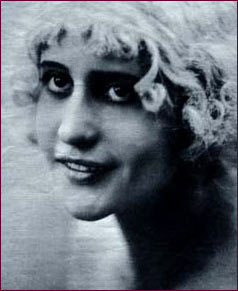 Vera Holodnaya

Vera Holodnaya (1893-1919) was the first Russian movie star of the silent black and white film.

She is called a "Queen of the screen", though she spent only 4 years out of her 26 starring in the movies.

Some say she starred in 50, some say in 80 movies. Unfortunately, only 5 survived.

She was one of a kind - smart, beautiful, talanted, pure, happy and loved by everyone.

Her movies, especially the most famous one called "By the fireplace" were popular not only in Russia, but abroad, as there was no language barrier in the silent movies. She got invitations to work in Hollywood and Berlin, but she refused all of them and stayed in Russia.

She was born on August 1893 in Odessa (some say in Poltava), Ukraine. When she was two her family moved to Moscow. At 17 she married law student Vladimir Holodny, who adored her.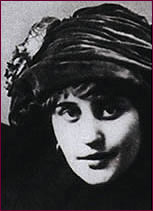 In the fall of 1915, she met legendary Russian singer Alexander Vertinsky. He came with the letter from her husband, who was at the war at that time, and instantly fell in love with her. From that moment on, he would visit her every day and just sit and stare at her for hours. He started to bring her his poems - naive and simple at first, then nice, then very good ones. A lot of his sondgs and poems were dedicated to adorable Vera. His poem "Your fingers"
was predicting her early death. Vera was very upset with Vertinsky for writing that poem.

"Your fingers smell like ladan and
Sadness sleeps in your eyes.
You don't need anything now.
And you don't feel sorry for anyone."

Strangely enough, she died at 26, surprising everyone around.


Her death was surrounded with a lot of mistery. Official version is that she died of "Spanish" flue that killed a lot of people at that time. But there were many other versions of her death.

Some say she was killed by Bolsheviks when she tried to immigrate to Europe. Some say she was poisoned by the French Ambassador, who Vera had an affair with and who thought, that she was spying on him for Bolsheviks. She died 2 days after dancing tango with him at the French Ball. According to the legend, when she returned to her room, there was a vase with poisoned lilies from him.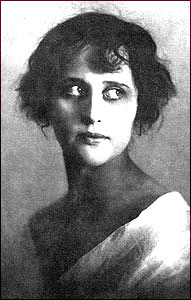 The best doctors tried to save her life, but at the time of the war there simly were not enough medications. For 2 days hundreds of people stayed outside her house day and night, though nobody was allowed to see her.

After she died she was quickly burried at the local semetery in Odessa. Her face was covered and nobody was allowed to stay by her coffin for a long time. It seamed like someone was covering the real reason of her death.

The funeral of Vera Holodnaya was taped and it still exist, but not her grave. In 1931 the whole cemetery was converted into park.

Monument to famous Odessa-born, silent film actress Vera Holodnaya is planned to be open in Odessa on September 2, 2003, the City Day.


Andrey Mironov

Andrey Mironov (1941-1987) was literary born on the stage. His mother, Maria Mironova was taken away to the hospital right from the stage of the Moscow Theatre of Miniatures. Decades later Andrey died on the stage. During the play "A Crazy Day or Le Mariage de Figaro" he passed out and died in the way to hospital.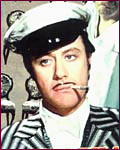 "Life is a great virtue. And as it turns out it doesn't really last that long. There is enough of misfortune, grief, drama, difficulties, and confusion in it. That is why we should appreciate the precious moments of joy and happiness – they make us kinder. When a person is smiling, laughing, delighting something or compassionating he becomes better and more pure..." - Andrey Mironov.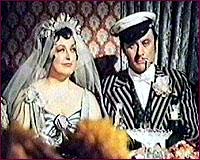 The first small part in the film of Yuliy Raisman "What if it's Love?" Andrei Mironov received as a student. The two next movies "My Younger Brother" (1962) and "Three Plus Two" brought him fame. Starting with 1966 his career – especially as a comedy actor – is going up the hill. He was one of the most talented actors of his time, admired by millions of viewers.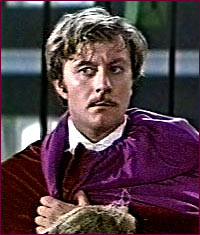 The most famous works in the cinema: "The Diamond Hand", "A Straw Bonnet", "Twelve Chairs", "A Simple Miracle", "The Tale Of Travellings", "A Man From The Capuchin Boulevard".

His role in the comedy "The Diamond Hand" brought Andrey Mironov a huge success. Sometimes the crowd would carry him from the Theater of Satira, where he worked, till his car. Girls would wait for hours outside the Theater for a quick look at him.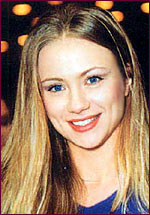 In the beginning of 1970s he married Katherina Gradova, who everyone remembered as Kath from the movie "The Seventeen Moments of Spring". They had daughter Maria, named after Andrey's famous mother. Now Maria Mironova is one of the well-known Russian actresses.
Andrei Mironov was famous enough in his lifetime, after his death he became a legend.

When talking about Andrey his friends particularly stress his fantastic devotion to his profession and viewers.


Irina Alferova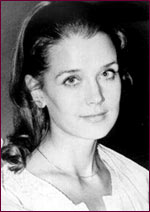 All her life Irina Alferova (born in 1951) tries to prove that she is not only an attractive woman, but also a talented actress.

For many years Irina Alferova performed only minor parts in her adorable Lenkom Theater, although she was already a well-known movie star.

She is best known for her role of Dasha in a movie "Road to Cavalry", based on the novel of the same name by Alexey Tolstoy about the life of two sisters Dasha and Katia from the eve of World War I to end of the Russian Civil War.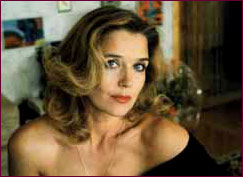 Irina is charming, down to earth, feminine and very private. She was married at one time to a famous actor Alexander Abdulov, whith whom she starred in a popular movie "Never leave those you love". Alexander was nominated "The most popular actor in Russia" in 2002.

Now her and Alexander's daughter Kseniya, is gaining her popularity as an actress.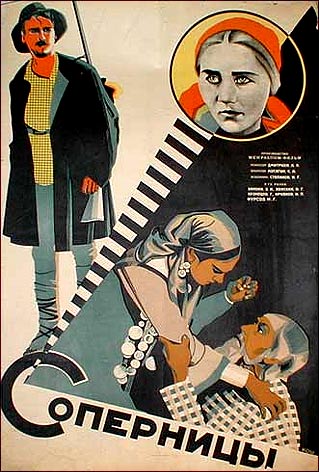 Moscow, 1929 Movie Poster "Rivals".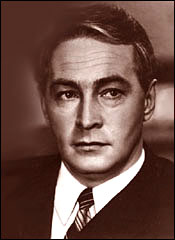 Vyacheslav Tikhonov
The contemporary history is not necessarily events which are described in school textbooks. Often, many things we do not view at this angle get entwined with our lives. But years go by, many things change while those minor things remain.


That's what happened with "The Seventeen Moments of Spring". The best-known Russian series of all time has sparked a cult.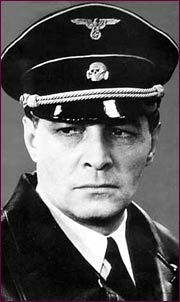 The brilliant acting of Vyacheslav Tikhonov in the role of Stirlitz made him an eternal superstar of the Soviet screen. Moreover, "perestroika" went by, the Soviet hierarchy of values broke down, the USSR ceased to exist, but the film is still being viewed and loved. Even in post-Soviet society, after 25 years of screening, Stirlitz is still popular. Newspapers report that when the movie "Seventeen Moments of Spring" is on, there are noticably fewer people on the streets and crime figures fall a few percentage points in Moscow.



The movie is based on the novel of the same name written by most successful of the Russian spy writers Julyan Semyonov. "The Seventeen Moments of Spring" are featuring a Russian spy, who was a high-ranking official in the Nazi SD in the final weeks of WWII, going under the name von Stirlitz.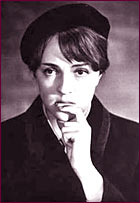 Otto von Stirlitz is the code name for Maxim Isaev, a Soviet intelligence agent who faithfully served the motherland in various posts from 1918 to 1967. He operated in Paris, Shanghai, and, most notably, in Nazi Germany during World War II where he infiltrated the SD (political security police) and practically single-handed exposed an attempt by Britain and the United States to conclude a separate peace with the Nazis and open a joint front against the Soviet Union.

Unlike the "James Bond" type of spy thrillers, the Stirlitz novels are based on actual events, thoroughly researched and full of historical documents and facts. Semyonov flew all over the world to research his books, even meeting with famed Nazi Otto Skorzeny, and maintained close contact with KGB agents.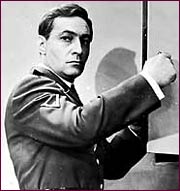 Stirlitz was an ideal Soviet intelligence worker. Modest and businesslike; cultured and well-rounded. He could speak on philosophy, history and science with equal ease. He knew most every European language, with the exception of Irish and Albanian. Hard-headed and cold-blooded, but not cruel. He preferred to use intellectual methods rather than crude violence. In his entire career he killed only once.

Stirlitz's status as folk hero is confirmed by the prevelance of Stirlitz jokes, which themselves constitute a whole sub-genre of Russian literature just begging for academic study.
-------------------------------------------------------------------------------
Stirlitz Joke #1
A flower pot fell off the window of the secret apartment and smashed Stirlitz on the head. This was the signal that his wife had just given birth to a son. Stirlitz shed a single manly tear. He hadn't been home for seventeen years.

Stirlitz Joke #2
Stirlitz went into Muller's office and said, "Herr Muller, how would you like to work as an agent for Soviet Intelligence? The pay is good."
Muller, shocked, gives an angry rebuff, then eyes Stirlitz suspiciously. Stirlitz starts to leave, but then stops and asks, "Gruppenfuhrer, do you have any aspirin?"
Stirlitz knew that people always remember only the end of a conversation.

Stirlitz Joke #3
Muller says to Stirlitz:
"I think I know who you really are - you are Jewish!"
"No, I am Russian" - said Stirlits and then thought
"Have I said too much?"

-------------------------------------------------------------------------------

Click here to listen to the soundtrack from movie "The Seventeen Moments of Spring".

Definately, the role of Schtirlitz is the one that broght Vyacheslav Tikhonov huge success and recognition as an actor, but there were others no less significant.

In 1968 he played a major role of Prince Andrei Bolkonsky in the gigantic motion picture epic "War and Peace", based on the novel of the same name by the great Russian writer Leo Tolstoy.

A project was so huge that it had to be funded by the Soviet Government. For the shooting of the film's battle scenes, a regular army was used, as well as a specially created cavalry regiment. Over 120,000 soldiers participated as extras in the crowd scenes. More than 35,000 costumes were made for the production.

Links

About Russian Word TV Channel, NTV channel, Andrey Mironov official website, Andrey Mironov Music Festival, Satire Theater official Website, www.oleg-dal.ru, www.papanov.ru, interview with Irina Alferova, (Russian only).

About the novel "Seventeen moments of spring" at www.sovlit.com, article about the movie "War and Peace", about Oleg Menshikov, about Moscow International Film Festival, www.profifilm.com (English)