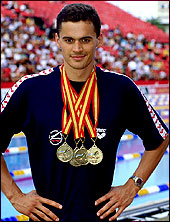 Alexander Popov

Alexander Popov is a four-time Olympic gold medallist. Alexander "Sasha" Popov was born on November 16, 1971 in Sverdlovsk (now called Yekaterinburg), Russia.

Popov did not start swimming until he was 8, because of his fear of water. "I was afraid of the water," explains Alex. "My father sent me to the pool and I have been stuck there ever since."

He began attending overseas swim camps at age 11 and by age 14, he was Russian junior champion.

He spends over 6 hours a day in the pool at the Australian Institute of Sport in Canberra, where he has trained since his coach moved there in 1993, and swims 80-90km a week, much more than most sprinters do.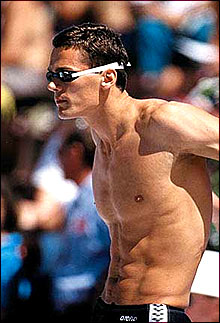 Unknown to many, Popov started out as a backstroker first, only switching to freestyle after joining the squad of highly respected coach Gennadi Touretski in October 1990. Alex hasn't given up backstroke altogether and occasionally competes in backstroke events for fun. But it was with his freestyle that propelled Popov to the number one ranking.

Following his tremendous successes at the 1996 Olympics held in Atlanta, where he snared multiple gold medals, Alexander returned to his Russian homeland to celebrate and to meet with various dignataries who were obviously eager to congratulate him. On his way home from one such reception in Moscow he was stabbed in the stomach, damaging his kidneys and grazing his lungs. It turns out that he was attempting to purchase some fruit from a street vendor, and they got into an argument over the price of some inferior quality watermelons. The crazed shopkeeper stabbed Alexander, causing him to be temporarily hospitalised.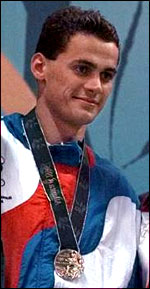 Thin and drawn after his ordeal, Alex nevertheless kept up with the star's schedule that awaited him, including meetings with journalists and city officials, and the lengthy award ceremony in Volgograd.
Obviously touched, Alex admitted that the avalanche of get well wishes that he received while in hospital meant a lot to him. His doctor explained that Alex was very lucky that the damage had not been worse: the knife had damaged his pleural lining, but not his lungs. Surgery had lasted more than two hours.
Despite the serious nature of the setback, he says he prefers to put it behind him. He is as determined as ever to be in Sydney in four years, and says that nothing will stop him.

Evgeny Plushenko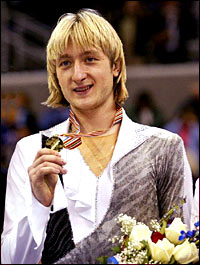 Evgeny Plushenko was born in 1982 in Khabarovsk, Russia.


Everything began with a present. One time Evgeny and his mom went for a walk and they met an aquaintance with her daughter. The girl cried because she didn't want to skate anymore. The aquaintance looked at Evgeny and asked him if he wants the skates. That's how Evgeny started to skate.

Before that incident, Evgeny was ill quite often and his mother was really worried about her son's health. His parents signed him up for skating, dance, they taught him how to ski, they bought him a bicycle and made him train at home with a ladder, a horizontal bar and a swing. Evgeni excelled at dance and skating.

His dance coach said: "You must dance, not skate". His skate coach said: "You must skate, not dance." His mother said: "You must choose." Luckily for all of us, he chose to skate.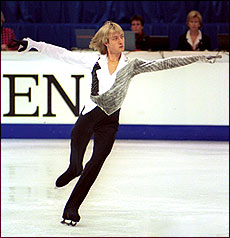 He started skating when he was four years. Being the youngest of all in the skating group, was very hard for him. He used to cry, hit hard the ice, but he kept on going. He trained every day with his coach Mikhail Makoveyev. He was a good student, learnd very quickly all sort of elements, like the Biellmann Spin. Now, the Biellmann Spin is his trademark.

Evgeny Plushenko is the only senior male figure skater in the world who is capable of doing the Biellmann Spin.
When he was 11, Evgeny did all triples, which means that he was already a figure skater of a very high level. But at the same age, the local area was closed down due to financial problems and Evgeni had to quit figure skating. His mother tried to make him play other sports, like soccer and karate. For a while he agreed, but quickly pulled out. Ice and figure skating became a part of him during the 7 years of hard work. His mother and coach Makoveyev took him to St. Petersburg to meet the famous coach Alexei Mishin. It was obvious to Mishin that Evgeny was very talented.

Evgeny and his mother moved together to St. Petersburg. They lived in an austere apartment and were supported by Mishin. But soon they found out that they could not afford to live in St. Petersburg both. His mother went back to Volgograd and from there, Evgeni had to do everything on his own. It was hard for him, being just 11 years old and living by himself. Mishin helped him, fed him and gave him money. A year later, his mother, who could not bear anymore being away from her son, went back to St. Petersburg.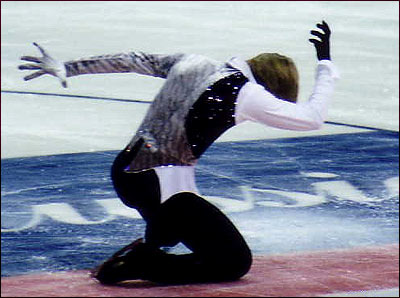 The 1997-1998 season was Evgeni's breakthrough year. At the Cup of Russia in St. Petersburg he finished second, at the Russian Nationals in Moscow as third, at the European Championships in Milan, Italy as second and at the World Championships in Minneapolis, Minnesota as third. With his succes he earned a lot of money, although he was just 16 years old. He bought an apartment where he now lives with his parents. He also supports his sister, who still lives in Volgograd with her husband and child.

In 1999, Evgeny amazed the skating world with a quad, triple, double combination, and beated Yagudin to become Russian National. From there, the competition between the two former training mates began. If Evgeny finished first, Yagudin was second. And if Yagudin finished first, Evgeny was second. In the season 1999-2000 Evgeni said goodbye to the second place for almost all competitions. At 9 great competitions, Evgeny ended 7 times first, one time second, and one time fourth at the World Campionships in Nice, France. After that season, Evgeni ended up first at many other competitions for the next two seasons.

It was hard for him to reach the top. He worked hard for so many years, had to overcome a lot of problems in his childhood. But still, we have to believe that it was faith, him becoming one of the world's best figure skater. Maybe it was faith too that he had to reach the top by overcoming so many problems. It taught him how to fight and not to give up to easily. He skates with his hearth, with so much passion.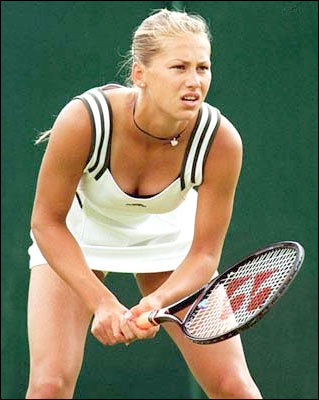 Russian-born tennis player Anna Kournikova.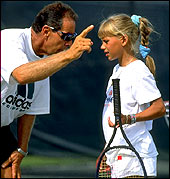 Anna Kournikova

Anna Kournikova has become the world's most celebrated tennis player despite her on-court results, not because of them. What's forgotten is that behind the sexy persona is an athlete of enormous talent.

Anna Kournikova was born June 7th 1981 in Moscow.

Her father, Sergei Kournikov was 20 at the time. He is a former Greco-Roman wrestling champion, had earned a Ph.D and was a professor at the University of Physical Culture and Sport in Moscow. As of 2001, he was still a part-time martial arts instructor there. Her mother Alla, a sturdily built blonde who was 18 when Anna was born, had been a 400-meter runner.

Anna received her first tennis racquet at 5 years old when her parents sold their TV to buy her one for Christmas. She played in a club near her place until age 11. After which she moved to Bradenton, Florida (USA) to train with Nick Bollitierri. Anna's parents didn't know what to make of her tennis obsession, but as athletes, they were sensitive to it.

At 14, she represented Russia in a Fed cup match and became the youngest player ever to win a fed cup match.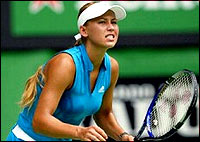 Kournikova, at age 15, qualified and made it to the fourth round of the 1996 U.S. Open, her first Grand Slam. A year later, she became only the second woman in the Open era (after Chris Evert) to reach the semifinals in her Wimbledon debut. In '98 she beat four Top 10 players in as many days to reach her first career final, in Miami. Three months later, she beat Steffi Graf on grass, something only two others accomplished in the 1990s.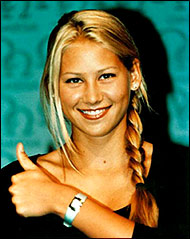 The most frequent statement one finds in articles about Anna Kournikova is that she has "never won a singles title".

Yet Anna has won 2 adult tournament titles, at Midland, Michigan, on Feb. 18, 1996, and at Rockford, Illinois, on March 10, 1996 (as well as many 18 and under titles, all before she was 16). These tournaments were sanctioned by the International Tennis Federation, but not the Women's Tennis Association.

'I don't care what anybody said about why I lost,' Kournikova says. 'I entered the French Open because I love to play and I couldn't stand the idea of missing it. This game isn't part of my life. This game is my life.'

The fact that Anna Kournikova has achieved widespread fame without winning a single tournament causes resentment among many players. Kournikova's high profile makes her an especially inviting target for opponents, who feel that they're underrated because of all the Anna's publicity.

After beating Kournikova 7-6 (7-6), 6-4 in the Minnesota Tennis Challenge, Seles scoffed at the suggestion that there's any animosity toward the 21-year-old Russian, who's known more for her beauty than her forehand.

"I don't think there's animosity. My gosh, that's a strong word to use," Seles said after the exhibition match. "She's dedicated her life to this sport. She's one of the hardest workers on tour."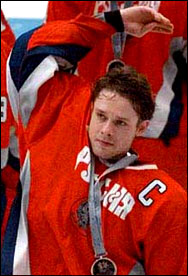 Pavel Bure

As his nickname -- the "Russian Rocket" -- suggests, when Pavel Bure takes aim in the offensive zone, the results tend to be devastating.

His speed and dekes leave defenses helpless, while his goal and point totals cause record books to be rewritten.

Pavel Bure was born in March 31, 1971 in Moscow, Russia.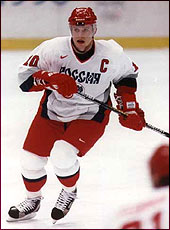 With the Vancouver Canucks, Bure racked up 60 points to win the Calder Trophy as the league's top rookie in 1991-92. He treated the Canucks -- who drafted him with their sixth choice (113th overall) in the 1989 NHL Entry Draft -- to back-to-back 60-goal seasons the following two years.

He became the first Canuck to win a major post-season award when he won the Calder Trophy.

Links

About Kournikova: www.tennis.com, Kournikova posters at www.art.com, lpictures abd biography of Evgeny Plushenko, Sergey Fedorov official site, Pavel Bure official site, legends of the Russian Sport (in Russian).