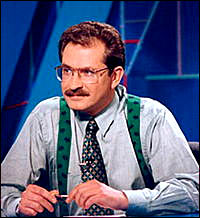 Vladislav Listiev

For many years Vladislav Listiev (1956-1995) was Russia's most popular talk show host and its most successful TV producer.
His TV shows, such as "View", "Subject", "field of Wonders" and many others are still loved by the audience.

It's hard to imagine that Vladislav Listiev, a glamorous, well-spoken, loved by everyone famous journalist and a TV producer had such a tragic life.

His father committed a suicide when Vladislav was still in school. His mother was constantly drunk and Vlad, who was studying at the special school for athletes, didn't hurry back home on the weekends.

Here, at the school, he met his first love Elena. In 1977 they got married and Vlad moved in with Elena and her mother in their small apartment.

It wasn't an easy life for the newly wed couple. Vlad was studying journalism at the Moscow State University and worked part-time as a personal trainer. Soon his first son was born. Unfortunately, due to poor health, he didn't live long.

His wife was in a deep depression. They were arguing a lot. Vlad was so devasted by everything that was happening in his life that he even tried to commit a suicide. He left his wife when she was pregnant second time, saying that he is not a father of the expected child.

The break up with Elena wasn't easy. Vlad was supposed to go to South America for a journalist assignment. Elena found out about it and let his boss know that Vlad left his pregnant wife. Vlad not only lost his trip to South America, he was also fired.

For 2 years he was making living by writing articles about different sports events as a freelance journalist. During Moscow Olympics Vlad met Tatiana, a University student, who later became his second wife. The boy that was born in the second marriage also died at the age of 6. After that, Vlad leaves Tatiana, tries to end his life again and then drinks heavily for years.

In 1987 Vlad became a host of the new, very popular program "View". To everyone Listiev was a rising star on Russian TV. He was smart, funny, politically incorrect and adored by viewers. Only his close friends and colleagues knew about his personal problems. His friends from ORT don't like to remember the time, when Vlad would show up drunk, almost unconscious, at work and they would have to make him presentable for the live show minutes before the start. Who knows what would have happened with Vlad and his career, if he didn't meet Albina at that time.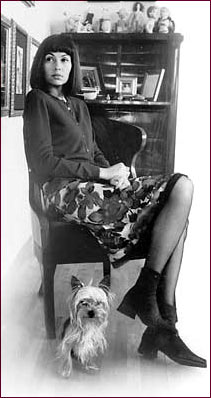 In 2 years they quietly got married and Albina, a 25 year old interior designer, quit her work and dedicated her life to Vlad. She followed her husband everywhere 24/7, ensuring his sobriety. Most people think that only because of her efforts, Vlad stopped drinking and became a number one talk-show host and producer on Russian TV.


In early 1995 Listiev was named head of the reorganized Channel 1, Russia's biggest nationwide privatized TV network, now known as ORT (Russian Public Television). He also became a president of the new independent TV company called "View".

The government kept 51% of ORT; a group of well-connected businessmen got the rest. Leading businessmen was Berezovsky, who acquired 16% of the stock for a mere $320,000.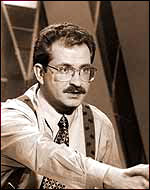 Listiev had no intention of being a figurehead. He decided to clean up the network's unsavory connections. His main target was Sergei Lisovsky, a 36-year-old advertising man who made his first fortune from a chain of Moscow discotheques. These glittering dives were known as good places to procure drugs. They were a haunt of Russia's crime bosses.
From discos, Lisovsky moved into advertising. To buy time on any of the top five Russian TV channels you must go through Lisovsky or an allied company. Here, as in cars and airline tickets, the middleman seems to have captured the float. This year advertisers will pay about $80 million to buy time on ORT. The money goes first to the media sales company, which then pays the network. But companies like Lisovsky's Premier SV were keeping most of the money while government subsidies (some $250 million) were keeping the TV network operating.


Lisovsky's business has been connected with some unsavory characters. One of Premier SV'S founding shareholders, Sergei Antonov, has been arrested by the Moscow police on racketeering charges. The chief financial officer of Premier SV, according to police investigations, is Alexander Averin, known in the underworld as "Avera Junior," Averin is important for his family connections — his older brother, Viktor, a boss of the notorious Solntsevo Gang, who was recently arrested on money laundering charges in Switzerland.
This was the crowd that Vladislav Listiev, the TV producer, decided to take on.
On Feb. 20, 1995 Listiev announced that he was breaking Lisovsky's advertising monopoly and instituting a temporary moratorium on advertising until ORT could work out new "ethical standards." This was a very brave move. Advertising companies started to loose millions of dollars.
"I knew he would be killed - the people he was dealing with were totally criminal," says one close friend of Listiev's.

Two weeks later, around 10 in the evening of March 1, 1995, Listiev was gunned down by professional assassins at the entrance to his apartment building. That was the loudest custom-made murder in a history of modern Russia, that shocked the nation. Vlad Listiev was only 34.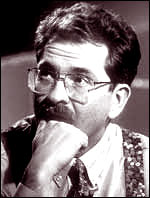 Forbes Magazine has obtained documents on the case from the organized crime unit of the Moscow police department.

According to these documents, Listiev knew that he was a marked man. He knew law enforcement authorities in Russia are powerless against the kind of opposition he faced. So Listiev gathered a group of his closest friends and explained the reason he might be killed.

When Listiev announced that he would be ending the advertising monopoly, Lisovsky demanded $100 million in damages. Listiev found a European company (name undisclosed) willing to buy the ORT advertising franchise. Listiev asked Boris Berezovsky to act as transfer agent and hand over the $100 million to Lisovsky. Berezovsky took the cash and stalled Lisovsky; he would get his money in three months, Berezovsky explained.

Thus the reforming Listiev was caught between two ruthless characters. He paid with his life.

The public outcry over Listiev's death was immense. Thousands of mourners showed up at his funeral. All TV channels stopped But the subsequent investigation was a tragic farce. Listiev's murder has never been solved.

Five months later the federal prosecutor's office announced that it had closed the Listiev case, and identified the names of both the people who ordered the killing and those who had carried it out. The very next day the prosecutor's office recanted, saying that the investigation was continuing. Two months later the prosecutor-general was fired and thrown in jail on charges of corruption.

Hundreds of bankers, businessmen and journalists have been killed since that time too. The price of a contract murder in Russia today is said to be $2,000. The murderers are almost never caught; and when someone is arrested, no one can be sure whether the police have apprehended the guilty party or are simply settling scores.


Lisovsky and Berezovsky both denied that they had anything to do with Listiev's killing. They blame unnamed advertising and production companies that were being hurt by Listiev's reorganization of the network.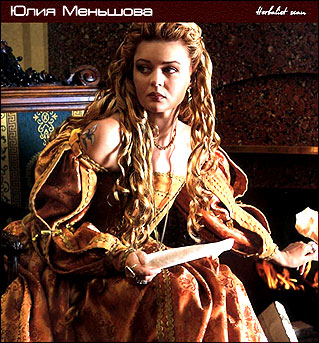 Julia Menshova, TV host of the popular Russian program "By Myself".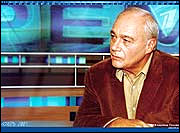 Vladimir Pozner

Vladimir Pozner is a popular Russian TV journalist, the host of the political program "Times" on ORT. He has won multiple Soviet, Russian, and American awards, including two Emmy certificates; its Russian equivalent, the Tefy award; He is also internationally recognized and ranks among the most respected people in the television profession in Russia today.

Vladimir Pozner was born in 1934, in Paris, France. He moved with his family to NY in 1940 where he lived until late 1948, when his family moved to the Soviet-occupied zone of Berlin. In 1952 the family moved to Moscow, where he enrolled at Moscow State University and graduated with an M.A. in biology. Between 1958 and 1961 Pozner worked as a translator of Elizabethan poetry into Russian. In 1961 he joined Novosty Press Agency as a senior editor, later becoming executive editor of Soviet Life and then Sputnik magazine.
In 1970 Pozner joined the USSR State Committee for TV & Radio as a commentator, where he worked until 1986. During that period, Pozner began to appear on US network television shows, mainly on Nightline (ABC), but also on a variety of other shows on NBC, CBS, CNN, as well as the CBC, the BBC, and television networks in France and Japan. It should be noted that Pozner was denied travel rights by the Soviet authorities - all the shows were done via satellite hookup.

In the 1980s, he did a series of historic live "space bridge" people-to-people talk shows with Phil Donahue which were enormously popular and earned Pozner cult status in his country. The first, called "A Citizen's Summit," ushered glasnost into Soviet TV and was supported by President Gorbachev. Pozner was promoted to the rank of political observer, the top journalistic post in the USSR. Genuine talent and extensive knowledge of Vladimir Pozner made him a role model for many young journalists in Russia.

With the advent of perestroika and glasnost, Pozner was allowed to travel (he had been let out of the country for a brief period between 1977 and 1980, but his passport was revoked in that last year when he criticized the Soviet military incursion in Afghanistan).
In 1989 Pozner resigned in protest from the Communist Party and in 1991 resigned from the State Committee of Television and Radio because of what he considered censorship.
That same year Pozner moved to New York City to work on a television show with Phil Donahue (Pozner & Donahue), which was first aired on WWOR and then on CNBC.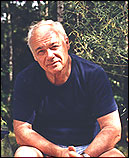 In 1990 The Atlantic Monthly Press published Pozner's book, "Parting With Illusions", which became a national bestseller and was on The New York Times list for 12 weeks. A second book, "Eyewitness", a journalistic report on the failed coup of August 1991, was published by Random House in 1992.

In early 1997 Pozner returned to Moscow. He hosted two highly rated television shows on Russia's most widely watched network, ORT. In the fall of 2000 he began hosting an end-of-the week political analysis show called "Times", which is presently ranked number one in Russia in the genre.


He is married to Katherine Orlova and has two children -------------------------------------------------------------------------------

Where do you think American supremacy comes from?

Americans are interested only in themselves, that's a fact. However, Americans are not the only nation which thinks that it is perfect. There is a joke: the French do not think that France is the best country in the world. They know it.

This is the combination of the feeling of supremacy and ignorance. America is a wonderful country. It has achieved amazing progress. No-one denies that... I would not like to make general statements, but the majority of Americans believe that it is so very supreme, which makes any kind of anti-American criticism absolutely out of the question. This is the way the American mindset is. This is what American movies, television and schools teach.

Americans have a wonderful legacy. They ought to be proud of it. However, a few people know something about that legacy. Common Americans do not read much, so they do not know a lot of their own history. Nevertheless, they believe that whatever the USA does, it is correct.

Why did the Vietnamese war cause such great damage? It was not caused by the fact that Americans lost it. The problem is that they were not right. They defended something wrong. That is why they perceive Iraq as evil, which threatens them. They do not ask themselves in which way such a small country as Iraq might threaten them. They are certain that Saddam Hussein has to be removed for the happiness of all the Iraqi people. This is a very American way of being, so to speak.

To read full interview with V. Pozner click here.



Listen to Pozner's interview with Walter Cronkite
Walter Cronkite and Vladimir Pozner hold a frank discussion on the history of media repression in the Soviet Union, the relative freedom of the American press, and President Putin's controversial press policies.

Links

The story of Vlad Listiev, why Listiev was killed, how Listiev was killed, article about Listiev's personal and professional life, article "Two yars without Vlad", about tv program "View", ORT official website, TV Center (in Russian), tv gallery, "The Russian Project", interviews and articles about life in Russia after the collapse of the Soviet Union (in English)