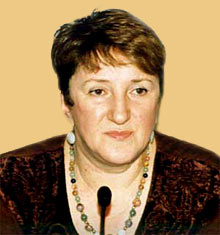 Galina Starovoitova

Galina Starovoitova (1946-1998), one of the original leaders of Russia's perestroika-era democratic movement. She was the only woman nominated for the Russian presidency in the 1996 election. Galina was a cofounder of the reformist Democratic Russia Party and served as its chairperson. She is remembered as an advocate of human rights and a champion for political reform in Russia. Shot to death in the stairwell of her home on Griboyedov Canal in central St. Petersburg in November 1998, in what "appears to be a political assasination". At the time of her death, Galina was State Duma deputy.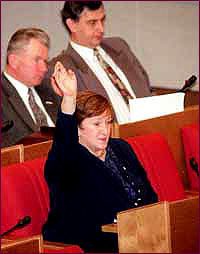 She received her B.A. from Leningrad College of Military Engeneering in 1966 and her M.A. in social psychology from Leningrad University 1971. Her Ph.D. in social anthropology from the Institute of Ethnography, USSR Academy of Sciences explored ethnic groups in the modern Soviet city. She has also published extensively on anthropological theory and cross-cultural studies. Starovoitova also served as Russian president Boris Yeltsin's advisor on ethnic issues in 1991 and 1992, though she resigned because of differences over Kremlin policy in the Caucasus.

Galina Starovoitova is described by her friends, relatives, allies and political opponents. Everybody says that being uncompromising in everything she did, she posed an obstacle to many, and she was dealt with in a straightforward Stalinist way: "No person - No problem - a purely Russian Murder"

On a cold, November night in St. Petersburg, three bullets to the
head ended the life of Galina Starovoitova.

On November 20, 1998, Starovoitova and her aide, Ruslan Linkov, were heading up the staircase of her apartment building when they were shot by waiting assailants. In a manner similar to the contract killings that have plagued Russia for the last several years, the guns were dropped at
the scene and the assailants fled to a waiting car. Starovoitova, co-chair of the Democratic Russia party, died at the scene.

Linkov survived with injuries to the head and neck. As the news spread throughout St. Petersburg, citizens overwhelmed by over four years of assassinations of prominent politicians, businessmen,
bankers and members of the media, turned their grief into a visible show of support for Starovoitova's life and quest for a more democratic future for the country. "My first feeling was horror," explains Olga Lipovskaya, the director of the St. Petersburg Center for Gender Issues, a non-governmental feminist organization and resource center in St. Petersburg. "horror about my country's morals ... It was a feeling of helplessness and desperation."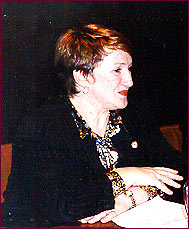 Starovoitova, the first woman to be murdered in the wave of political violence that has destabilized St.Petersburg, was also a grandmother devoted to her family. "Violence is not foreign to Russians by any means, but they have their limits ... [Starovoitova became] a martyr, an unintentional martyr. She's somebody who will be a symbol of courage and outspokenness, and [she's] someone who
suffered because of it."

In the midst of a contentious local election, many residents of St.
Petersburg - in addition to such international human rights groups as
Amnesty International - were openly speculating that Starovoitova's murder had to do with her critical public statements about the leaders of nationalist and Communist factions. Earlier in November, Starovoitova had stated that she knew the names of politicians receiving bribes from mafia members, among other details of corruption in the local elections.

According to an Amnesty International report released after her death, Starovoitova had also announced that she knew that the seat in the St. Petersburg local elections had been sold for $100,000 to a criminal group from the city of Tambov.

But Lipovskaya from Amnesty International believes that despite her outspoken tendencies, Starovoitova didn't have a sense of what kind of danger she was truly in: "She was always very open and maybe too sincere for a politician." Starovoitova's sincerity in politics did not go unnoticed by the people around her. She worked with human rights activist Andrei Sakharov and was a member of the Moscow Helsinki Group. In 1989, Starovoitova was elected a USSR Member of Parliament from Yerevan, although she had four male rivals for her position. In 1990, St. Petersburg also elected her to the Russian Parliament, so that Starovoitova simultaneously held two positions in both parliaments; no other Russian woman had ever accomplished this before.

Despite their massive round-ups of 'suspects,' FSB developments in
the Starovoitova murder case are painfully slow and unrevealing.
Indeed, the record of the FSB is dismal when it comes to catching
the perpetrators behind several political murders in St. Petersburg and throughout Russia. In addition to the murders of five other
parliamentarians, St. Petersburg Vice Mayor Mikhail Manevich, investigative journalist Dmitry Kholdov, television commentator Vladisalav Listiev, and others have been killed. In an apparent grab for political and economic power by crime syndicates and politicians alike, victims have also included businessmen, bankers, and city port managers.

Ultimately, many Russian citizens and activists have their doubts
that the FSB will ever catch the killers, perhaps owing to the fact that
the assassins may have vanished back into the ranks of the security service itself. Only two days before Starovoitova was murdered, numerous FSB officers came forward at a press conference in Moscow, alleging that their organization had been operating a covert hit squad, carrying out extortion, hostage-taking and contract killings.



Every day that goes by without progress on this case - or on any
other unsolved local assassination - leaves its citizens more frustrated, and its progressive activists and politicians even more conscious of the fact that Starovoitova was unlikely to have been the last target of St.Petersburg's brutally violent political climate.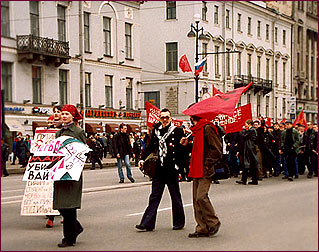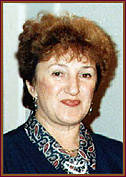 Braving freezing temperatures, thousands of ordinary Russians and dignitaries gathered to say farewell to a slain lawmaker.

About 10,000 people paid their final respects to Galina Starovoitova. The line was so long that her funeral was delayed so every mourner could have a chance to pass by her casket.

In another tribute, people across Russia's dimmed their lights in her memory for a few minutes at 8 p.m. Moscow time.

No one can quite shake the frightening feeling that Russia has crossed a dangerous line. The warnings of impending fascism that in the past seemed
hysterical or contrived have, since Starovoitova's execution-style slaying, a chilling ring of plausibility.
Starovoitova herself had been one of the early and persistent warners. "One cannot exclude the possibility of a fascist period in Russia," she had said after the 1993 elections. Hours before her murder, she had requested a Kremlin meeting on the growing dangers of political extremism.

"Galina Starovoitova is an inspiration. Her integrity in public office was unquestioned. Her sense of fairnesss was legendary. Her leadership was undaunted in the face of challenge after challenge. She was a role model." - Lynn Hinkle, President, Women of the World.

Nobody knows why Starovoitova was killed and why a crime like that is possible in Russia.

The shooting has brought forth calls to end the violence and lawlessness that has plagued post-Soviet Russian society. Russia media has widely described her death as the first politically motivated murder since the Soviet Union's collapse. The victims of previous killings have been mostly males with business interests.

Galina Starovoitova's death has raised questions regarding the state of human rights issues in modern Russia. At the time of her death, she was not a powerful political figure or threat. She was, however, a figure that many Russian people associated with ethnic concerns, social issues and the basic rights of all peoples. As a result, her murder begs, not only the question of who did it, but why.

Former Prime Minister Viktor Chernomyrdin urged Russia's quarrelsome pro-democratic reform groups to unite in the wake of Starovoitova's death. "These shots were fire at all of us ... if people start talking to politicians in the language of bullets, then we can imagine where that will get us," - he said.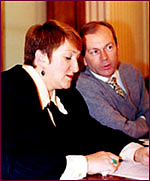 On February 28, 2002, the deputy chief of Russia's Interior Ministry's Main Criminal Police Department announced that international and federal arrest warrants have been issued for Starovoitova's assassins. He did not name the suspects but said they were living abroad.

Present and wounded during her killing, Starovoitova's assistant, Ruslan Linkov, says authorities do not need to look abroad but in their own backyard to find who committed this crime.

While justice may eventually be served to those who ended such a force in Russian politics, it will not rectify the true injustice of taking away a voice which fought for thousands of people ignored by their government.

Links

Article "Murderers of Galina Starovoitova detained in Czech Republic", article "Galina Starovoitova, Heroic Psychologist", Being a Woman Politician In Today's Russia", by Galina Starovoitova, article "A shot at Democracy", "Killing Raises Awkward Questions" - "terror 99" - website dedicated to political assasinations and bombings in Russia, article on www.bbc.co.uk (in English)